Info for Five Star Niteflirt Phone Sex Flirts
If you are a caller
outside of the United States
and need help making a call
please see our
international phone sex call
instructions for Niteflirt.

If you are a caller looking for Niteflirt phone sex & webcam providers please click here to go to our main page.
If you are a Niteflirt flirt, please read on.
Why Join Five Star Flirts?
Five Star Flirts is a phone sex website for Niteflirt providers. It is a place for flirts to promote themselves & share traffic. With over 100 members and growing and more than a million page views, we are indexed by Google and the site is getting traffic for several desirable phonesex related keywords! Other ads are being placed in several strategic places. Five Star Flirts has a strong Twitter presence with +/- 10K followers and your listing will be regularly tweeted. Follow us at @FiveStarFlirts.
How it Works
If you've used topsites or traffic exchanges before, then you understand that your placement or "ranking" is based on how many "hits" you send in to the topsite. The more guys click your banner to "vote" the better your placement will be, while at the same time you benefit from hits coming in from other flirts' listings. This site works in a similar way - you will be given a "Five Star Flirt" button to place on your Niteflirt listing or website:
The more callers click your button and "VOTE" for you, the higher your placement. The top five ranking flirts who are sending the most votes get the little ribbon icon next to their photo on this website to show that you are a top ranking flirt. The Five Star buttons are "SMALL" so as not to monopolize too much space on your Niteflirt listing!

To make things clearer and to cover the additional details, here are a few simple rules:
This list is for Niteflirt providers ONLY! No other phonesex or webcam sites are allowed!
You will need a photo sized to 150 x 200 and the photo will need to be hosted by you. If you need help with this, please let me know via Twitter or Niteflirt mail.
Your "Website URL" on the form may link to your Niteflirt listing or profile. The button must appear on this same page and the votes or hits must be coming in from this same page.
You MUST place the topsite button on your Niteflirt listing, you will not appear on this site until you place it and send at least one hit.
There are a number of categories here for your Five Star Flirts listing, please choose your BEST category and place your listing there. DO NOT include any content here that is not allowed on Niteflirt, including nudity in your photos.
Please do not join more than once - one category and one listing per Flirt.
After you fill out the join form you will receive your button code. Please place this code EXACTLY as it appears so that your votes may be counted. You should place the code on the SAME PAGE that you entered on the join form.
If you are ready to sign up and become a Five Star Flirt, click here and join now!
Visit Flirtz.net for free Niteflirt graphics,Twitter icons and more!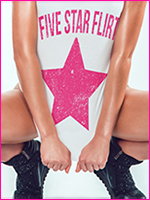 **Exceptions to putting the Five Star Flirts button on your Niteflirt listing MAY be made on a case by case basis. Please don't ask for an exception unless you have a well established, active & up-to-date blog or website. We think the button is cool and something to show your prospective callers that you are a quality flirt and that is part of the marketing concept behind this site. However, we realize listing space is sometimes limited so requests for exceptions MAY be considered. Anyone interested in traffic exchange on their personal website, please tweet @FiveStarFlirts or message http://niteflirt.com/Five+Star+Flirts